Virgin Atlantic
Virgin Atlantic and Delta Pop Open Their Own Pub in the Heart of London
What better way to bring awareness to the 230 destinations Virgin Atlantic and Delta fly to in the U.S. than with a craft beer that represents each one.
Virgin Atlantic |
Challenge
Together, Virgin Atlantic and Delta Air Lines connect transatlantic travelers from the U.K. to 230 U.S. destinations through seamless direct and connecting flights. However, awareness of their Joint Venture and knowledge of Delta's brand and service in the U.K. remains very low both among consumers and corporate travel bookers. We needed to showcase both brands' key differentiator, which is hospitality and thereby increase trial of Delta in the U.K.
One Story
Most airline partnerships are only marriages of convenience that leave consumers and travel agents cold. Delta and Virgin had a very different kind of a relationship. A truly different business model, they were vested in each other's success, and while the two companies have a very distinct culture and brand vibe, they have a key principle in common—absolute commitment to hospitality and showing their fliers a brilliant time. So, rather than telling people about the predictable stuff about fares and schedules, we decided to open a pub together to host our fliers in the most memorable way! The Joint Venture pub made Virgin and Delta's partnership tangible and delightful, while showcasing the 230 destinations Virgin and Delta fly to in the U.S. with a craft beer from each one.
Many Voices
Our story came to life through not only the physical activation but also print, social, radio, wild postings and internal happy hours at both Delta and Virgin headquarters. Pub programming included theme nights for hero destinations featuring DJ's representing the local music scene and menu specials showcasing the local flavor, like a lobster roll for Boston and a pianist playing grunge era covers for Seattle. Flight crews joined the pub staff throughout the 10-day activation offering a firsthand experience of their iconic hospitality serving iconic in-flight snacks and hosting an American themed pub quiz which sold out three days in a row.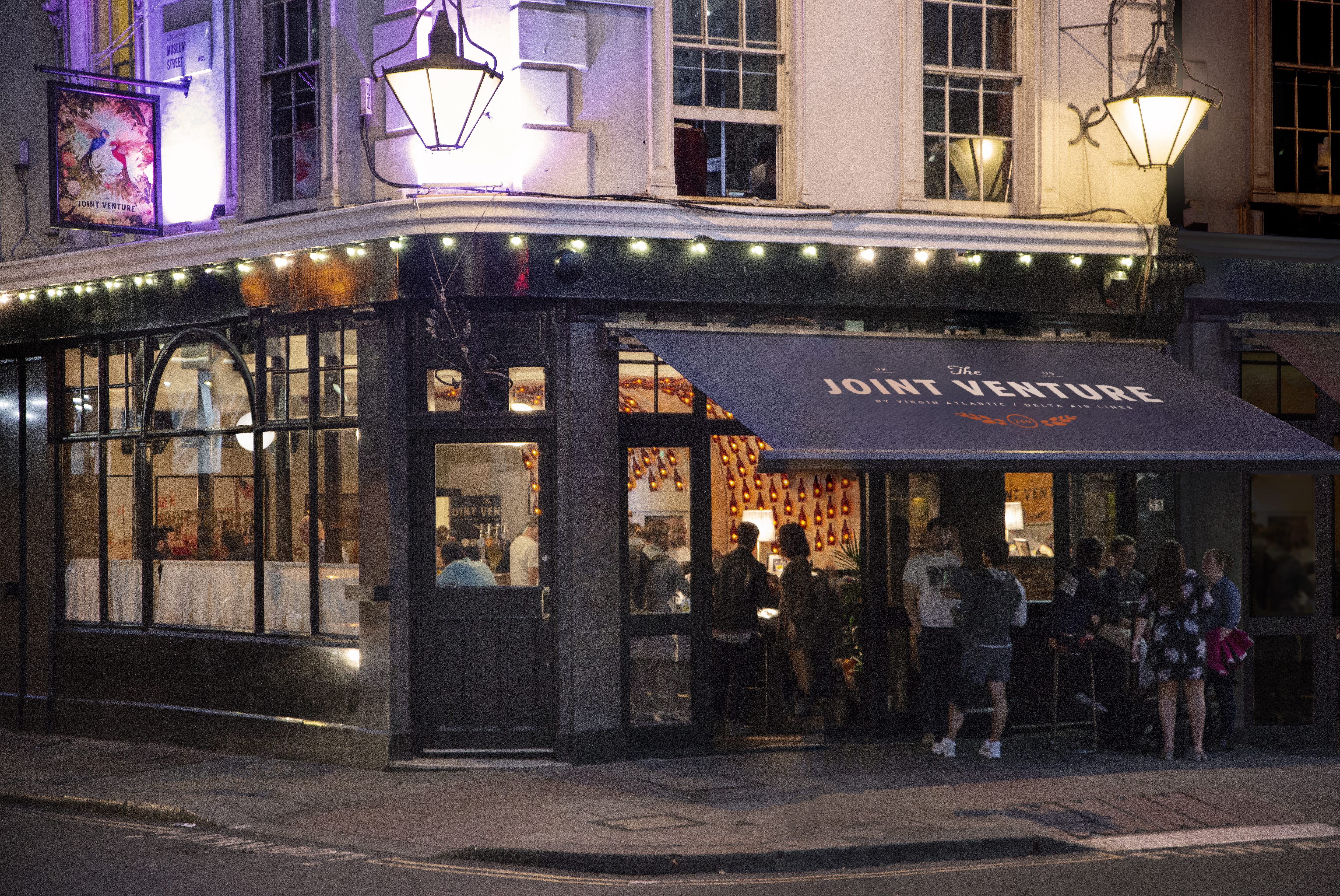 Outcome
The Joint Venture was so much more than a pub, it was a gathering place for internal teams to have off-site meetings and B2B teams to host their clients. The trade clients enjoyed the experience at the pub so much that they will be continuing to meet as the pub quiz team on a weekly business moving forward. In just two weeks since the pub's closure, Delta and Virgin have already had 345 bookings attributed directly to The Joint Venture pub experience and on opening day alone we earned over 4 million social impressions.
345 bookings attributed directly to the Pub
"What better way to bring people together than over a beer, or better still, 230 beers! The Joint Venture will bring a taste of the U.S. to London and through the ever-popular U.S. craft beer scene, show the variety of destinations that U.K. travelers can fly to with Virgin Atlantic and Delta Air Lines."
– Claire Cronin, Senior Vice President, Marketing at Virgin Atlantic